2020 Honda CR-V Hybrid in Philadelphia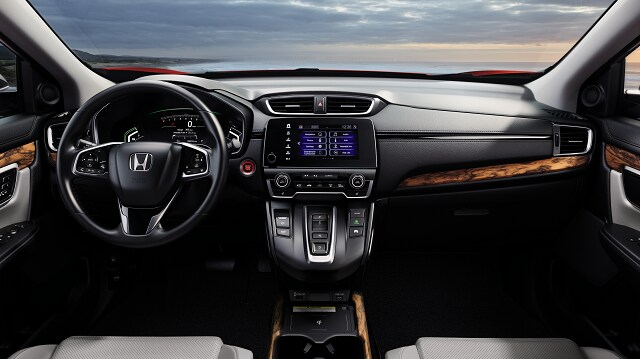 Experience the Open Road With the All-New 2020 Honda CR-V Hybrid
The Honda CR-V has long been one of the most impressive SUVs on the road. Not only does it offer supreme agility, reliable performance, and cutting-edge features, but it also has a wide array of advanced safety features. Not only does the 2020 Honda CR-V Hybrid maintain the level of reliability and style that you would expect, but it also has new innovations and exciting benefits to enjoy when you are behind the wheel.
On top of that, you can enjoy all of the benefits of the hybrid system -- including the added agility it adds to your driving experience.
How Does the Hybrid System Work?
In essence, the 2020 Honda CR-V Hybrid combines two electric motors with a gas engine. The combination of these things helps create not just an agile driving experience, but it also delivers an impressive 212 horsepower. On top of that, this hybrid system has been paired with an all-wheel drive system. In essence, what this means is that the hybrid system of the 2020 Honda CR-V Hybrid works to create both power and versatility, while also delivering stability.
How Does It Compare to the 2020 Honda CR-V?
One of the questions you may have is simple: is the 2020 Honda CR-V Hybrid different from the 2020 Honda CR-V? To put it simply, there are a few differences between these two vehicles.
The 2020 Honda CR-V Hybrid is a bit more compact. As such, that means you can enjoy more versatility on the road than you can in the 2020 Honda CR-V. Moreover, it doesn't offer as much cargo and passenger space. However, with its compact nature you can enjoy better handling, more versatility, and more stability on the road.


There are some features which are on the 2020 Honda CR-V Hybrid which are not only the other model. Features like that include a Keyless Access System and Smart Entry with Walk Away Auto Lock.


Aside from performance, both of these vehicles are closely priced, with the 2020 Honda CR-V Hybrid being just a little bit more expensive. In other words, you don't have to worry about breaking the bank and you can take advantage of advanced benefits.

Enjoy a Myriad of Features

The 2020 Honda CR-V Hybrid is also loaded with a vast selection of features. That includes simple features, like the Dual-Zone Automatic Climate Control System, Heated Front seats, a Heated Steering Wheel, a Wireless Phone Charger, USB Charging Ports, a 12-Volt Power Outlet, a Hands-Free Power Liftgate, and more! Plus, you can take advantage of the ample cargo space, the versatile center console, a cargo tray, and much more.

Ready To Learn More?

We know how important it is to find a dependable car nowadays. In fact, owning a car has become a necessity, especially for folks who are commuting to work or bringing their kids to school. With our team by your side, you can easily find your dream car on our lot.

If you would like to learn more about our selection of vehicles, or if you have any questions about the All-New 2020 Honda CR-V Hybrid, stop by today! Our team at Sloane Honda in Philadelphia, PA would be proud to assist you with all of your vehicle-related needs.

Stop by today and we can help answer any questions you may have about the purchasing process.

We are proud to serve folks in Trevose, Willow Grove, Northeast Philly, and Feasterville.
Make an Inquiry