Sloane Honda has an Expert Honda Service Department in Philadelphia, PA providing Full Service & Maintenance Care. Schedule an Appointment Today!
Trust Your Car To The Sloane Honda Service Team
Servicing your car is a vital part of the ownership experience. Not only does consistent service help maintain the quality of your vehicle, it also helps ensure that your automobile maintains its efficiency and reliability on the road. Furthermore, it helps guarantee your investment in your vehicle by expanding its overall longevity.
Whether this is your first vehicle, or you have gone through car maintenance before, our team is going to help make sure you get the precise and efficient service you need. Furthermore, our team is here to assist you every step of the way, from purchasing to servicing.
No matter if you need a simple service, like an oil change, or something extensive and complex our team will be here to help you every step of the way.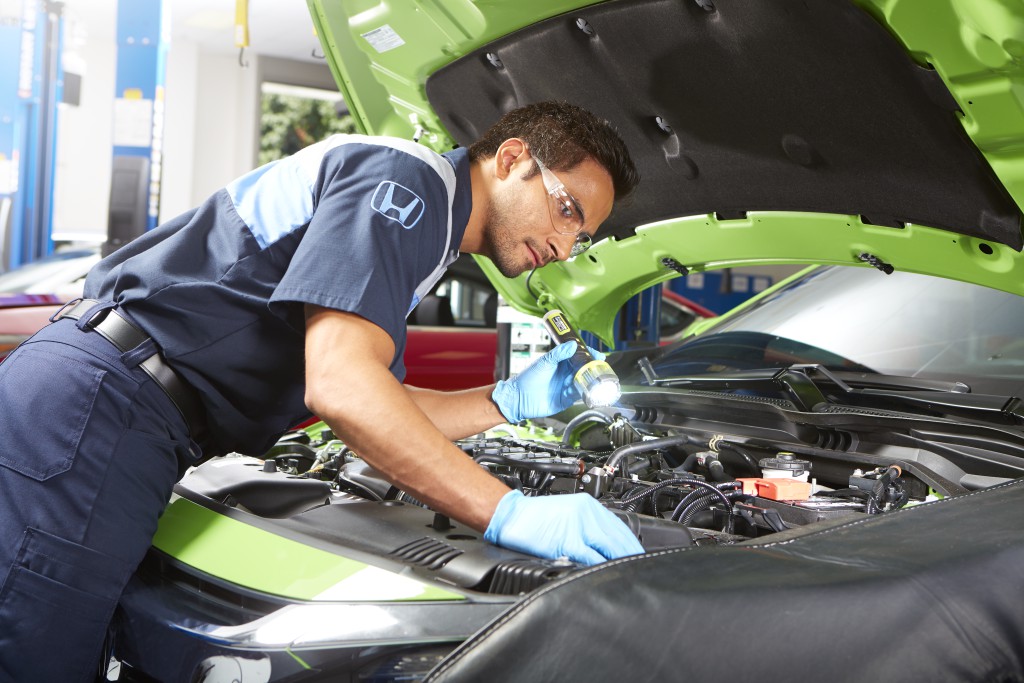 Efficient Honda Service Center in Philadelphia
We have done everything we can to ensure that scheduling service is easy and straightforward. For instance, we have created an online service scheduler, which you can use to pick a time and day that fits in your schedule. Best of all, you can do so from the comfort of your living room couch!
When you bring your car in to our service center, our team will immediately greet you and start to assist you with all of your maintenance needs. Furthermore, we can answer any initial questions you may have about service and maintenance in general!
We are proud to handle a variety of services, ranging from simple stuff - oil changes, tire rotations, battery checks, etc. - to more extensive projects. Furthermore, if you notice anything strange going on in your car (if you hear any odd noises or see any potential signs of issues underneath the hood) we can take a look to see what is going on.
Routine Auto Maintenance Is Vital
Part of the reason routine service is so important is because it allows us to keep an eye on your car and spot any potential problems that may arise. We can then address those issues before they blossom into something larger and more expensive.
However, we also know that consistent service can take a toll on your wallet. That is why we do our best to offer competitive pricing and affordable service to all drivers who visit us.
How Much Does Honda Charge for Service?
Every car service issue costs a different amount of money. You'll also find a different amount for every type of vehicle. In order to truly understand how much your Honda service may be, you'll want to take a closer look at the service offerings when you schedule your service appointment in Philadelphia. This will give you a rough estimate of how much your final bill may be.
Does Honda Offer Free Maintenance?
It does now.
Honda Service Pass offers free maintenance for two years/24,000 miles
(whichever comes first), beginning with select New 2023 vehicles. The plan includes standard oil and filter changes, tire rotation and multi-point inspections. Eligible models include the 2023 HR-V, 2023 Odyssey, 2023 Ridgeline, and 2023 CR-V. In addition, all new Honda vehicles continue to be covered by a 3-Year/36,000-Mile Limited Warranty, plus a 5-Year/60,000-Mile Powertrain Limited Warranty.
What is Honda Express Service?
There are certain maintenance and service issues that are a quick fix. Honda Express Service is available for these types of repairs. The Honda Express Service option doesn't need an appointment and is prepared to get you in and out in no time. If your vehicle needs an oil change, tire repair, battery testing and replacement, or any of the other offerings available, we suggest swinging by our Sloane Honda Express Service center, and we'll have you on your way to
Langhorne
or beyond in a flash.
Is a Honda Expensive to Fix?
Honda vehicles are in the average price range when it comes to routine maintenance and larger repairs. Of course, it all depends on what part needs to be fixed, but for the most part, your Honda won't break the bank as much as other car brands.
Learn More about Honda Service and Maintenance at Sloane Honda
Auto service is important for a number of reasons. However, the most important reason to maintain your car is to ensure its quality and safety on the road. That is where our trustworthy team comes in: it's our job to make sure your car runs smoothly and reliably.
If you would like to learn more about our selection of vehicles, or if you have any questions about servicing your car, we invite you to visit us at Sloane Honda, located in Northeast Philadelphia, PA. Our team would be more than happy to assist you with any and all of your automotive needs!
Stop by at your next opportunity, and we can even help you schedule a test drive with your favorite Honda vehicle on our lot!
We are proud to serve drivers throughout Willow Grove, Feasterville, and beyond.
Hours
Monday

7:30AM-6:00PM

Tuesday

7:30AM-6:00PM

Wednesday

7:30AM-6:00PM

Thursday

7:30AM-6:00PM

Friday

7:30AM-6:00PM

Saturday

8:00AM-4:00PM

Sunday

Closed